School trips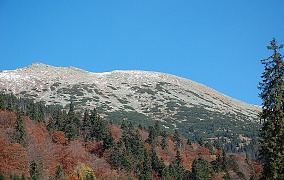 Family Inn Tale is situated amid the Low Tatras nature under the southern slopes of Chopok and Ďumbier at a distance of only 700 m from the ski resort Ski Tále and Gray Bear Golf Course. Modern family Inn offers a pleasant ambience and accommodation in comfortable 2, 3, 4 - bed rooms and apartments with a total capacity of 60 beds.
The Inn is equipped with a restaurant, (TV / DVD), snack bar, reception, common room (flipch. table, table football, darts), ski room, fireplace for barbecue and a kids playground.
Family Inn Tále offers 60 beds on three floors in 14 double, triple and quadruple rooms and two apartments. Rooms, furnished with massive furniture, are equipped with separate bathrooms with shower, satellite TV and WIFI connection. The rooms located on the first and second floor have underfloor heating. The apartments consist of a living room, a fully equipped kitchen, bedroom, bathroom and a spacious balcony. We offer apartments with one or two bedrooms.
Family Inn Tále is a guarantee of an ideal school trip. It's location is a good starting point for many trips, walks and less demanding or challenging hikes. Bystrá Valley is one of the most visited places in Slovakia.
School trips are guaranteed meals 5 times a day as well as all-day drinks.
Excursions/trips: Tarzania Tále - rope park (1 km), Bystrianska Cave (3 km), Wellness Center Bystrá (2 km), Horse riding - Ajax farm (3 km), Čiernohronská železnička - historic railway (25 km, departure station Chvatimech - 10km), Forestry museum Vydrovo (25 km) and many others.
It is possible to create two separate, fully equipped rooms for learning purposes during a school trip. In addition to the grass field there are also two multifunctional playgrounds located 500 m from the Inn.
Prices for school trip:
€ 17.5 person / night / meals five times a day,
for every 10 students one teacher free.
Surroundings
Bystrianska Cave
(distance 3 km)
The Bystrianska Cave is the most important cave of the Upper Hron River Valley. It is known by remarkable rocky features and evolution of underground spaces, occurrence of flowstone fills as well as by favourable climatic conditions for speleotherapeutical treatment. The cave is accessible since 1968 and has a length of 490 m. The cave has an abyss character, dominated by curtains hanging on edges of flowstone crusts. Since 1971, the Bystrianska Cave is used for speleotherapy.
Jaskyňa mŕtvych netopierov (The Dead Bats Cave)
(distance 9 km)
The cave is situated at an altitude of 1,510 meters above sea level. Tours are available with professional speleological guides. An educational tourist trail to the cave starts at Trangoška. The complexity of the cave makes it to rank among the most important Slovak caves. The cave has a length of 16.2 km and a depth of 300 m. It consists of 14 levels with a central level representing level 4, at an altitude of 1,750 meters above sea level. Visitors have a choice of three cave trails, the longest of which allows up to 12-hour tour.
Tarzania Tále - Rope Park
(distance 2 km)
TARZANIA Tále is the third in a series of Tarzanias in Slovakia. Located nearby Hotel Partizán, in the area of ​​mini-golf course. Natural swimming area and golf resorts are in close proximity. The rope park consists of 23 obstacles at a height of about 5-7 meters above the ground and it also includes a trail for little kids. Blue (shorter and easier) route is 180 m, red (longer) route 292 m. Kids route is 90 m.
Ajax Farm
(distance 3.5 km)
Ajax farm is located in a beautiful countryside and provides for an unforgettable experience for horse lovers. It is just 3.5 km from our Inn and offers riding schools of varying difficulty. For beginners - ponies and horse riding with an instructor. For more advanced visitors - rides along forest paths. For the experienced - hypodrom and rides in the surrounding countryside.
Natural swimming pools
Tále - natural swimming pool. The swimming pool is popular mainly because of the beautiful countryside in which it is located. It is 2 km away from the Inn.
Krpačovo - water reservoir. The water reservoir is located 7 km from our Inn in a beautiful scenery of Low Tatras mountains.
Wellness Centre Hotel Bystrá
(distance 2 km)
The wellness center offers a swimming pool, jacuzzi, sauna world, sanarium and water slides. This new wellness is external part of the Wellness Hotel Bystrá. The total capacity of the wellness center is 80 people.
Nature Wellness Center Hotel PARTIZÁN
(distance 1.5 km)
Nature Wellness Center is one of the most advanced wellness centers in Slovakia. On an area of ​​1650 m2 it offers six kinds of sauna, Roman bath, Kneipp path, panoramic jacquzzi, crushed ice, adventure igloo, cooling pool with cliff and pebble beaches. For the youngest guests there is a children's pool and a fairytale world of Ferdo Mravec (The Ant Ferdo - famous animation character).
Čiernohronská železnička - historic railway
(distance 10 km)
Railway runs from Chvatimech (distance 10 km from our Inn) to Čierny Balog. The route has a length of 16 km. The original purpose of the railway was to transport logs from the surrounding mountains. Later, it was rebuilt for tourism and is now nationwide famous attractions. Railway runs three times a day.
Forestry museum Vydrovská Valley
(distance 25 km)
Leisure, education and entertainment in the heart of nature, where the 3.3 km route with 68 stops through a forest reveals its secrets of the history of forestry, the importance of cultivation, forest protection and the work of foresters. A gamekeeper's house with a museum, amphitheatre, playground, refreshments, information center with souvenirs amplify the unique experience. Forestry museum founded in 2002 is located in Čierny Balog in Vydrovská Valley and is accessible both in summer and winter. Forestry museum - a living museum which vividly tells the story of the forest and the work of its foresters. The essence of the museum is the 3300 m long forest time trail with 64 educational stops. They tell us about the history of the forest and its life-sustaining functions, harmony and beauty of the work of foresters who protected it. All stops include real 3D objects with information boards in Slovak and English languages.
Dobročský forest
(distance 25 km)
Dobročský forest, a National Wildlife Reservation, is one of the oldest protected areas in Slovakia - since 1913. The reason for protection is the preservation of remnants of the original forests that have evolved during millennia. During the mining development period (16th-17th century), the majority of these forests was destroyed as trees were used to reinforce mine roofs (spruce) or for the production of charcoal (beech) which fuelled the furnaces where iron ore was melted. In the beginning of 19th century, Jozef Dekrét Matejovie, a native who became supreme forester of Banská Bystrica began to replant forests in the region.
Biking
The Upper Hron River Valley has 63 marked bike trails with a length of 683 km. Get to know the most beautiful places of the region on the bike.
Rafting on the river Hron
The river, which gave the name to the region, the river that gives life to the region...
The river Hron is the second largest Slovak river. It springs under Kráľova hola and after 289 km mouths into Danube in Štúrovo. Hron is not really marked by human activity and that's why it is widely coveted by paddlers. Small waterworks are mostly passable and the river flows through its original riverbed, with certain exceptions due to river regulation in larger cities. Hron River rafting can be completed without major problems across the whole river. Canoeing trips along the river with the transport of persons and possible catering are possible from early spring to late autumn. It's a complete service from accessories (boats, paddles and accessories), through transportation of boats and persons to safe parking.