Ski lessons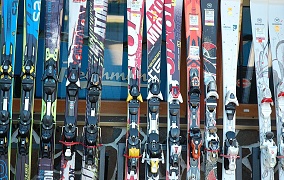 Family Inn Tále is situated just 700 m from the Ski Tále resort, thus offering optimal conditions for organizing ski lesson stays.
The Inn is equipped with a restaurant, (TV / DVD), snack bar, reception, large common room (flipch. table, table football, darts), ski room, fireplace for barbecue and a kids playground.
Family Inn Tále offers 60 beds on three floors in 14 double, triple and quadruple rooms and two apartments. Rooms, furnished with massive furniture, are equipped with separate bathrooms with shower, satellite TV and WIFI connection. The rooms located on the first and second floor have underfloor heating. The apartments consist of a living room, a fully equipped kitchen, bedroom, bathroom and a spacious balcony. We offer apartments with one or two bedrooms.
For ski lesson stays we provide a shuttle service to the resort, skiroom, ski passes, lunchtime meals directly at the slopes and a final ski race in ski resorts Ski Tále, Ski Mýto a Ski Jasná.
Available dates for ski lesson stays are January to March. We offer a choice of 5, 6 and 7 day stays in combination with 4, 5 and 6 day ski passes. In case of demand we offer to purchase a one day pass to the ski resort Jasná whith more than 50 km of ski slopes. Trips to Chopok, Bystrianska Cave, vital world and to sports hall in Hotel Mýto pod Ďumbierom are also available.
Ski resorts:
Ski Tále (distance 0.7 km)
The Ski resort is suitable for both demanding and less demanding skiers. The resort offers 5 ski lifts, maintained snowboarding and sledge area, cross-country track with a radius of 6.5 km, snow-tubing and a fun winter game Eisstockschiessen.
Ski Mýto (distance 4 km)
Mýto pod Ďumbierom is suitable for experienced skiers. It offers 3 ski lifts and a chairlift with a maximum length of 1460 m and 300 m of super-elevation.
Ski Jasná (distance 8 km)
The interlinked southern and northern side of Chopok creates a unique ski resort in Central Europe with about 60 km of ski slopes. Jasna Low Tatras Ski area forms a tributary area for visitors of Czech Republic, Slovakia, Poland and Hungary. Increasingly, the resort attracts visitors from Ukraine, Belarus and Russia. The international character of the resort, a 5 month snow guarantee and good infrastructure are a great promise for further expansion in the near future.